ILLUMINATING DAILYHIVE
It was a dream come true for us to collaborate with DailyHive, the influential media and news company that originated in the vibrant city of Vancouver, BC. This partnership holds a special place in our hearts as we grew up reading DailyHive and now have the opportunity to bring their brand to life through our custom LED neon sign! Nightglow Studio created a neon sign traced from DailyHive's iconic logo, incorporating the cool white and icy blue tubing that perfectly reflects their brand colors.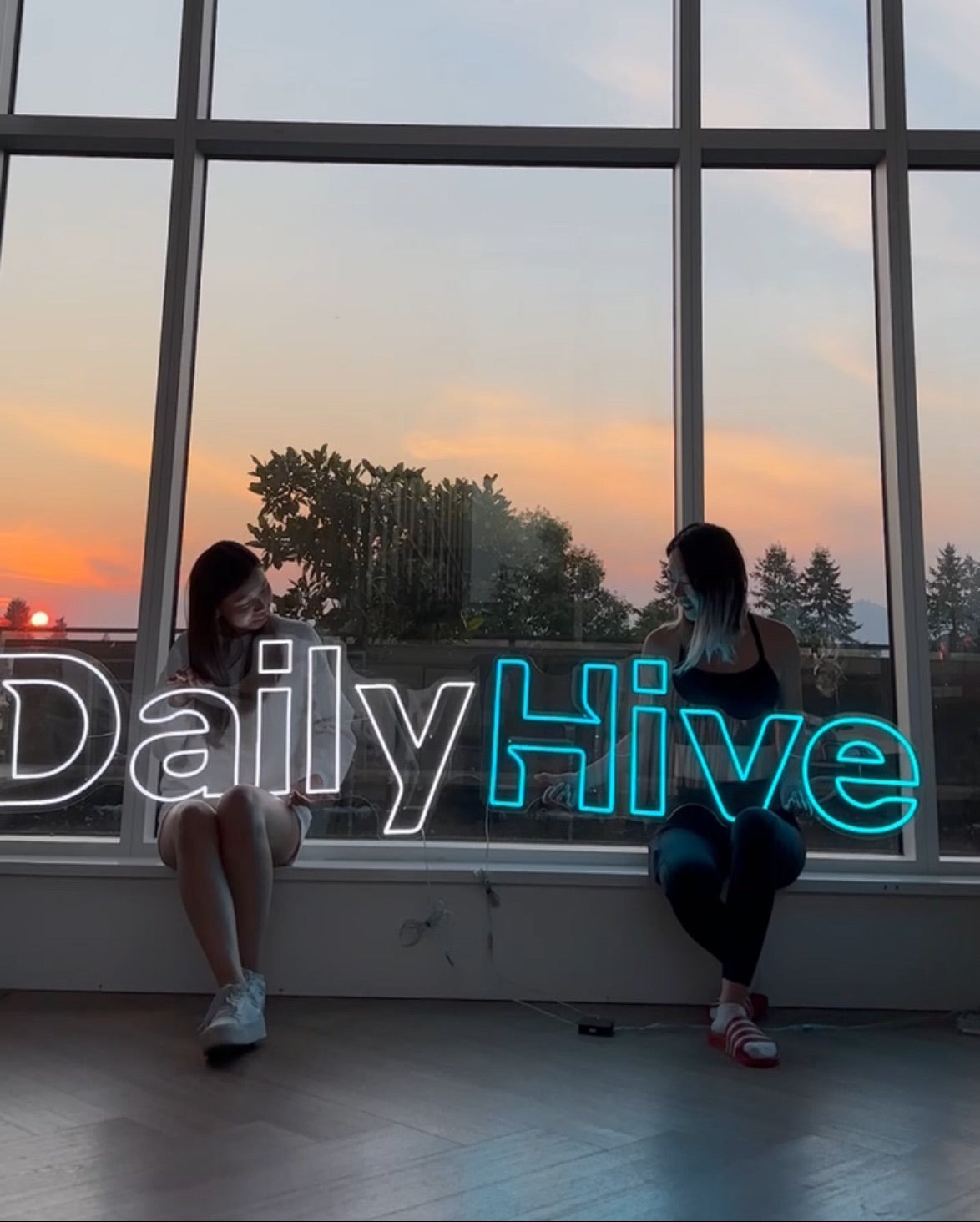 This project holds a deeper significance for us. During their high school years, Melissa and Selena, the co-founders of Nightglow Studio, grew up reading Dailyhive when it was known as Vancitybuzz. Now, being part of Dailyhive's story and illuminating their downtown Vancouver office with this custom neon sign of their logo is nothing short of surreal
Our expert craftsmanship has resulted in a visually stunning neon sign that captures the essence of DailyHive's dynamic and engaging platform. With a total length of 6'6", the sign adds a captivating presence, and inviting glow that will find its home in DailyHive.
Whether it's personalized neon art for your space or custom LED neon signs for businesses, we are here to make your vision shine with warmth and brilliance.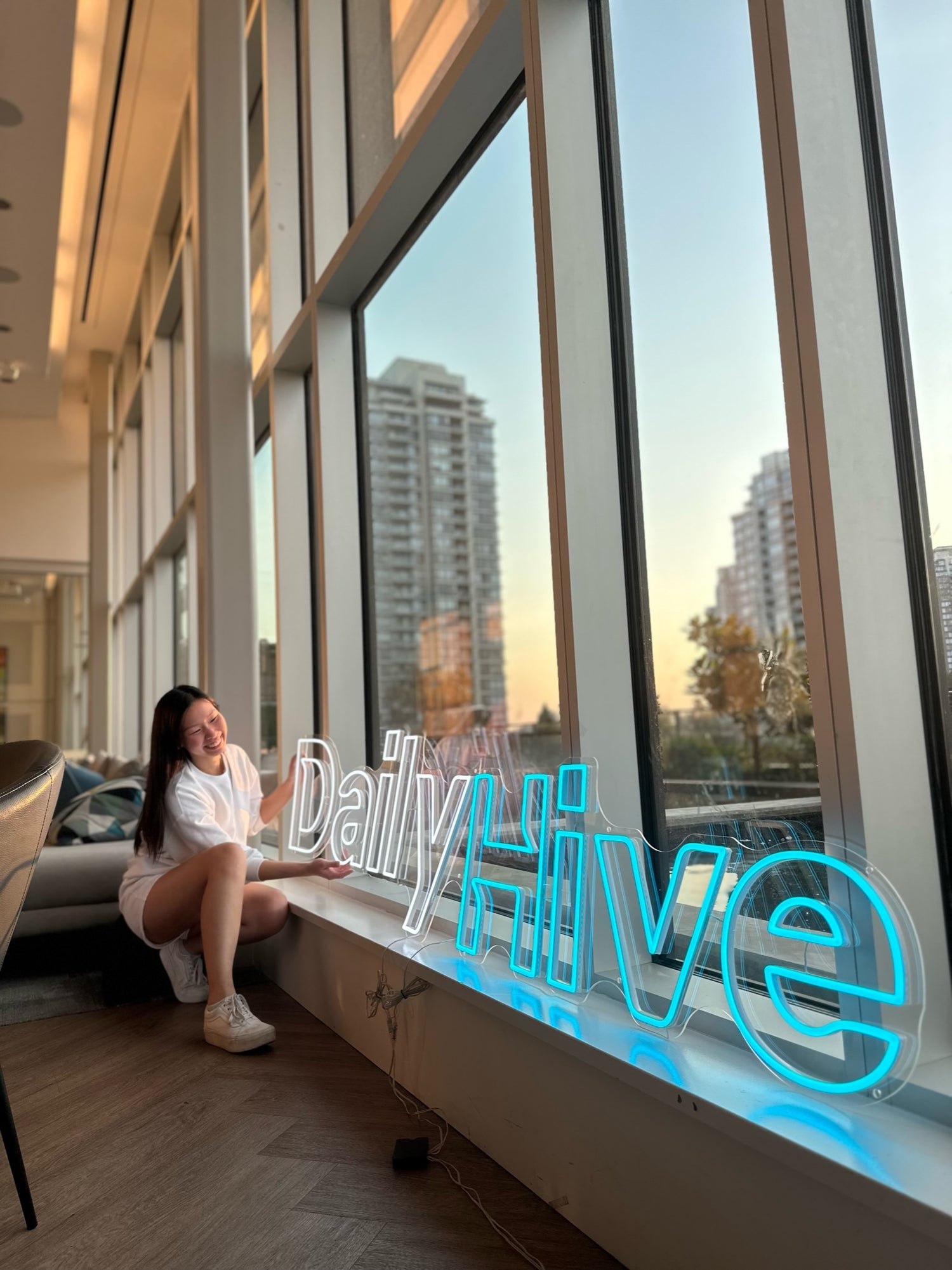 As a Vancouver-based company, we're immensely proud to have collaborated with Dailyhive, to not only showcase our craftsmanship but also allowed us to connect with the community in our own unique way.
ABOUT US
Nightglow Studio is a local Vancouver LED neon sign business that makes neon lights for any business setting, wedding neon signs, or any phrases you can think of! Our goal is to bring back the old days where Vancouver was known for its neon signs in the city and make Raincouver a brighter and more vibrant place.
Got Inspired?
STEP 1: DESIGN IT

We like to keep things simple.

Once you've decided on your design, size, and colour.

Click "Email Us Your Design" to send us an email to receive a draft of your design and quote.

STEP 2: DRAFT IT

We want to get this right.

Once we see your email we get started on a mock up of the design. We'll work together to ensure that the sign meet your needs and expectations.

STEP 3: FINALIZE IT

We know you're excited. (We are too)

Once everything is finalize your custom neon sign will be ship within 3-4 business days of ordering from. Once your order has shipped you can expect it to take between 10 -14 business days to arrive to you!
FREE EXPRESS SHIPPING

5 STARS REVIEWS ON GOOGLE

2 YEAR WARRANTY

ENERGY EFFICIENT
Shop Our Collection
Shop our in house designs! Everything from Formula 1 Circuits to Vancouver neon sign to "it was all a dream" neons sign, we have it all. It's the perfect wall art for businesses, home, cafe, bedroom, gaming set up.. the possiblities are endless!