Regular price
$189.00 USD
Regular price
$189.00 USD
Sale price
$189.00 USD
Unit price
per
Sale
Sold out
We are thrilled to announce our partnership with Vancouver is Awesome in bringing the iconic East Van Cross to life. Nightglow Studio has crafted a custom LED neon sign inspired by Ken Lum's renowned design on Clark Drive, except it's a mini version with dimensions of 22cm x 33cm, perfecting sizing to place on your shelf or nightstand!
The East Van Cross symbolizes the essence of East Vancouver, created by vertically writing "East" and horizontally writing "Van" in capital letters. These words intersect at the letter "A," forming a cross shape. The term "Van" represents Vancouver and refers to the city's eastern half, known for its historically lower wealth and gritty character.
—
Size shown: 22cm x 33cm ( 8.66 inches x 13 inches)
Color shown: Cool White LED 
neon tube
Materials

Our LED neon signs are handcrafted by using LED neon strips that are mounted on an arylic board.

Once the design is finalized we start by laser cutting the outline of the sign onto the acrylic. We then use neon strips to trace the design of the sign while gluing and solder them into place.

Why LED neon?

We use LED neon strips help create because its more durable, sustainable, and afforable than traditional neon. Most importantly, with LED neon strips don't compromise on the glow of the sign

Color shown: Cool White LED neon tube
Shipping & Returns

Shipping options: 
- Free Standard shipping on orders! (yup that's right)


Shop with confidence: We offer deliver anywhere in Canada and the US. You can shop confidently and with peace of mind with our 2 year warranty. So if anything happens we'll mail you a new one on us!
Dimensions

Size shown: 36cm x 26cm ( 14.17 inches x 10.24 inches)

Color shown: Cool White LED neon tube
Care Instructions

Once you've recieve your sign all you have to do is hang it and leave it!
Share
View full details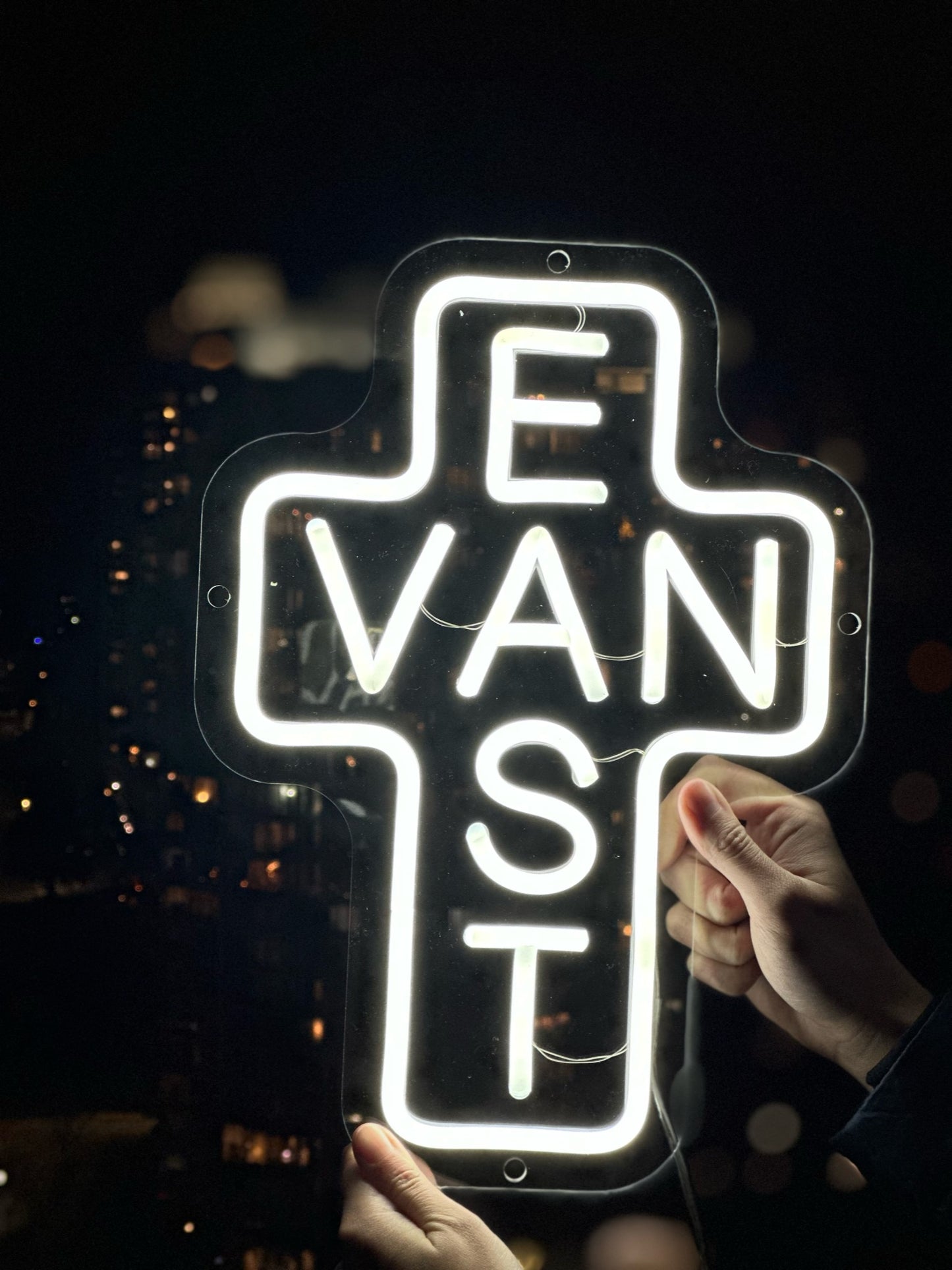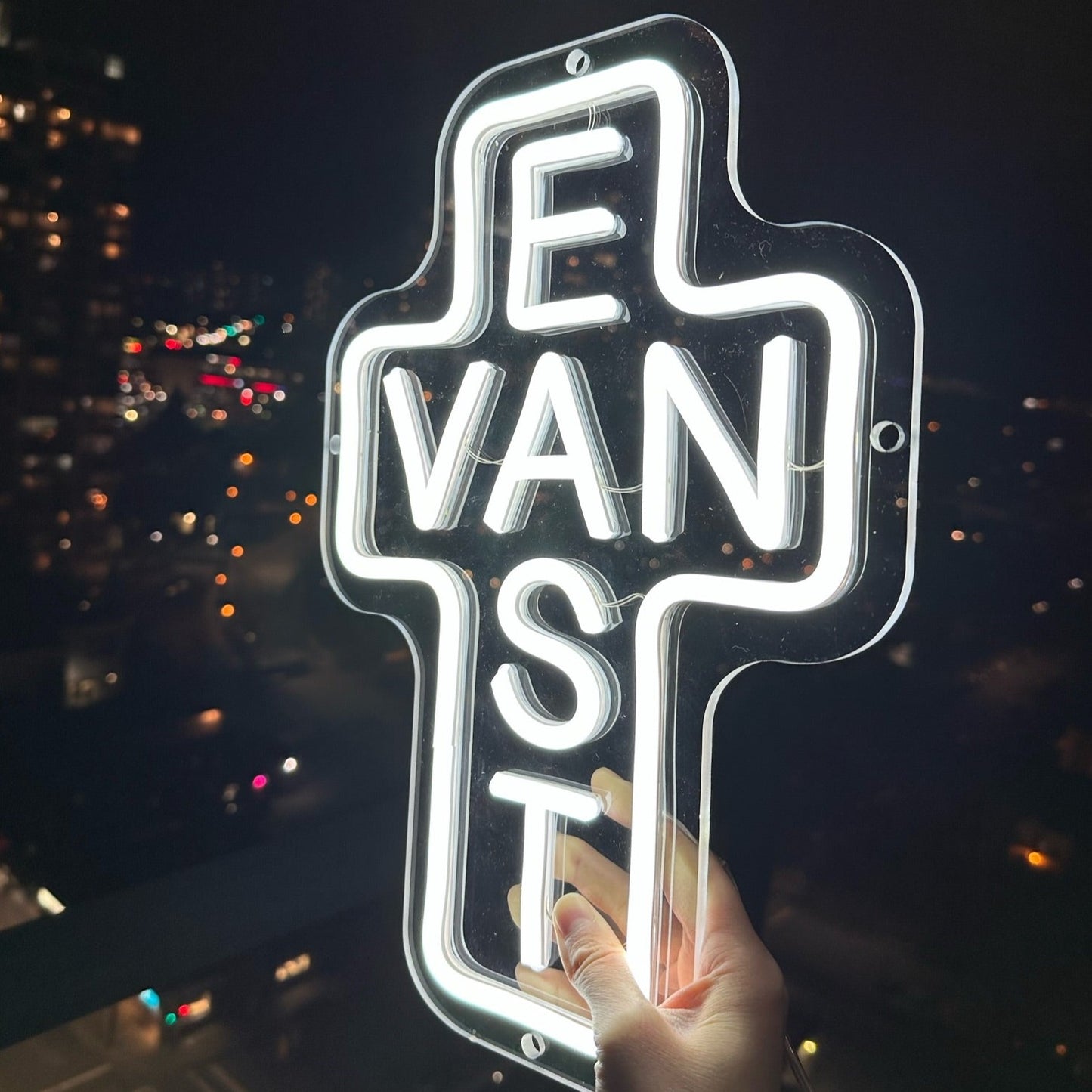 HISTORY OF EAST VAN SIGNS
Initially, the East Van Cross was the artistic expression of graffiti artists, embodying the spirit of defiance and marginality prevalent in East Vancouver. However, in the 21st century, this symbol has evolved into a beloved city icon. Its significance is most prominently showcased in the Monument for East Vancouver, an installation by artist Ken Lum. Erected in 2010 near the intersection of Clark Drive and East 6th Avenue, the monument solidifies the East Van Cross as a powerful emblem of the community's identity.
What comes with your neon sign?
Free Express Shipping

Get 2 week shipping on us! We know you're excited so we don't want to make you wait

Remote dimmer to control the brightness

All our signs come with a dimmer to adjust the brightness and mode

Power supply

Our signs are powered by a power supply which connects to a wall plug in 🔌

Set of screws for installation

All of our signs come a wall mounting set and with pre-drilled holes for easy mounting & hanging